2 CITIES. 1 NIGHT. 1 CAUSE.
WELCOME TO THE VENICE BEACH HOMEPAGE FOR VBMBV!
FOLLOW @CHIVEonLA FOR DETAILS #VBMBV!
8/1- EVENT INFO FOR SATURDAY! (ATTENDEES PLEASE READ)
Saturday is fast approaching and we wanted to fill you in on some event details! If you have questions email us at lachiveon@gmail.com
EVENT TIMES / LOCATION: Our event will start at 6pm and end at 2am. At this time, there are no tickets available at the door. The event is SOLD OUT. Please do not arrive super early before 6pm as we will be setting up and we will be very busy. Have your tickets printed out or viewable on your phone. This is a 21 and over event please have ID's out also. They will be checked before you enter.
Here is the address for the bar:Mom's Bar12238 Santa Monica Blvd.Los Angeles, CA 90025
Please park BEHIND the venue in the Smart & Final parking lot located off Santa Monica Blvd. & Wellesley Ave. MERCHANDISE: A lot of people have asked about the shirts. Here's the deal. The Black Chive LA Shirts are shipping out tomorrow and you should receive them by friday. If you ordered Baseball KCCO Shirts, they will be available for WILL CALL at the event. We will refund your shipping charge. The Autism Shirts will also be available for WILL CALL at the event. We will, again, refund your shipping charge if you pick up your order at the event. YOU MUST BRING YOUR ORDER INVOICE TO PICK UP YOUR WILL CALL SHIRT!!! If you do not pick up your shirt at the event, it will be mailed to you the following Monday.
Availability for purchase:We have a limited amount of all our shirts in all sizes available for purchase. The autism shirts special for this event will be only $15. Merch table will be located at the back of the bar.Cash or Card is fine.
SILENT AUCTION:We will be hosting a silent auction for some Chivery Merchandise as well as some art pieces donated by some local artists. There will be no raffle this time. It just takes too long and gets old really fast. At the end of the night, we will announce the winners of the auction items.
DRINK SPECIAL:The awesome bartenders at Mom's came up with the "CHIVE COCKTAIL" or the "DIGITAL arCHIVE". However you order it or whatever you call it, proceeds from this drink goes towards helping our cause. We've been promised it will be green ;) so give it a try! There will be plenty of other drink specials provided by the bar.
FOOD TRUCKS:Food trucks will arrive around 10pm. We're trying to get a few to come earlier, around 8pm, but we are still waiting to hear back so don't depend on it just yet. The bar does not serve food, so please plan accordingly. Eat prior to the event.
MUSIC:We're gonna have a DJ spinning all night with room to dance.
PATIO/PHOTO BOOTH:Our photographer/videographer (Joshyy-Poo) has a backdrop set up on the patio outback. The patio is open until midnight. This is also a smoking area, no smoking out front by the entrance please. There is also a photo booth inside near the merch section.
BEER PONG TOURNAMENT (CANCELLED):Unfortunately the space is limited and we'd rather have more people in attendance than to be able to play beer pong. This portion is cancelled.
HOTELS/LODGING: As always we try to make sure everyone gets home safely and we'd much prefer you stay locally if you can. Hotels in this area are hard to come by being so close to the event. We've called for group rates at several locations but we've been told that many of you have already booked there and the rooms are all sold out.
Here are few places with rooms still remaining:
Ocean Park Hotel $107Extended Stay America - Los Angeles - LAX $119 (farther from event)Four Points by Sheraton Los Angeles Westside $159 (farther from event)Royal Palace Westwood $174 (farther from the event)
CAB SERVICE:If you need a ride call below310-444-7777 or 310-444-4444
We'd like to thank everyone for continuous support with the events we do. We're always planning for the next big thing! If you have any questions at all, please email us at lachive@gmail.com me and my admins will do our best to accomodate you and your questions as soon as possible. KCCO!
CHIVEonLAAaron
EXTENDED HAPPY HOUR FOR CHIVERS!
GREAT FOOD
LIVE MUSIC
MERCHANDISE
RAFFLES FOR CHIVE GEAR
CARE PACKAGES WITH YOUR TICKET
BEER PONG CHARITY TOURNAMENT
PHOTO BOOTH
AND MORE!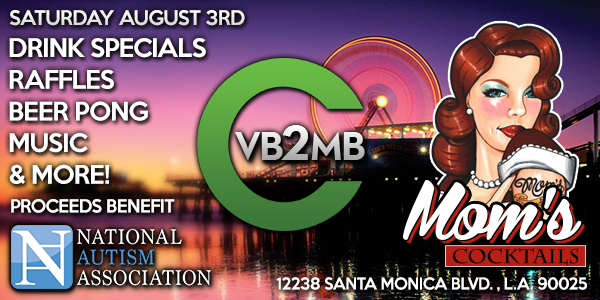 ALL PROCEEDS BENEFIT THE NATIONAL AUTISM ASSOCIATION
*Chive Charities has no connection with the Chive Nation Fundraising events whatsoever and indication to the contrary is purely coincidental.